"STRATA" means "layers of rocks". During your stay at STRATA, you can feel the history and culture that have been put into this very special property, and you can also find a "layer" of new values being created on top through the interaction between local people and visitors.
Since ancient times, Okinawa has been a place where cultures from various countries have coincided and because of that today Okinawa has a very unique culture. This Miebashi area has been a key point of traffic to and from Shuri since the Ryukyu Kingdom era.
We aim to be a place like no other in Okinawa. We want to show a new Okinawan style, one that is shown through the interaction of various people in Miebashi.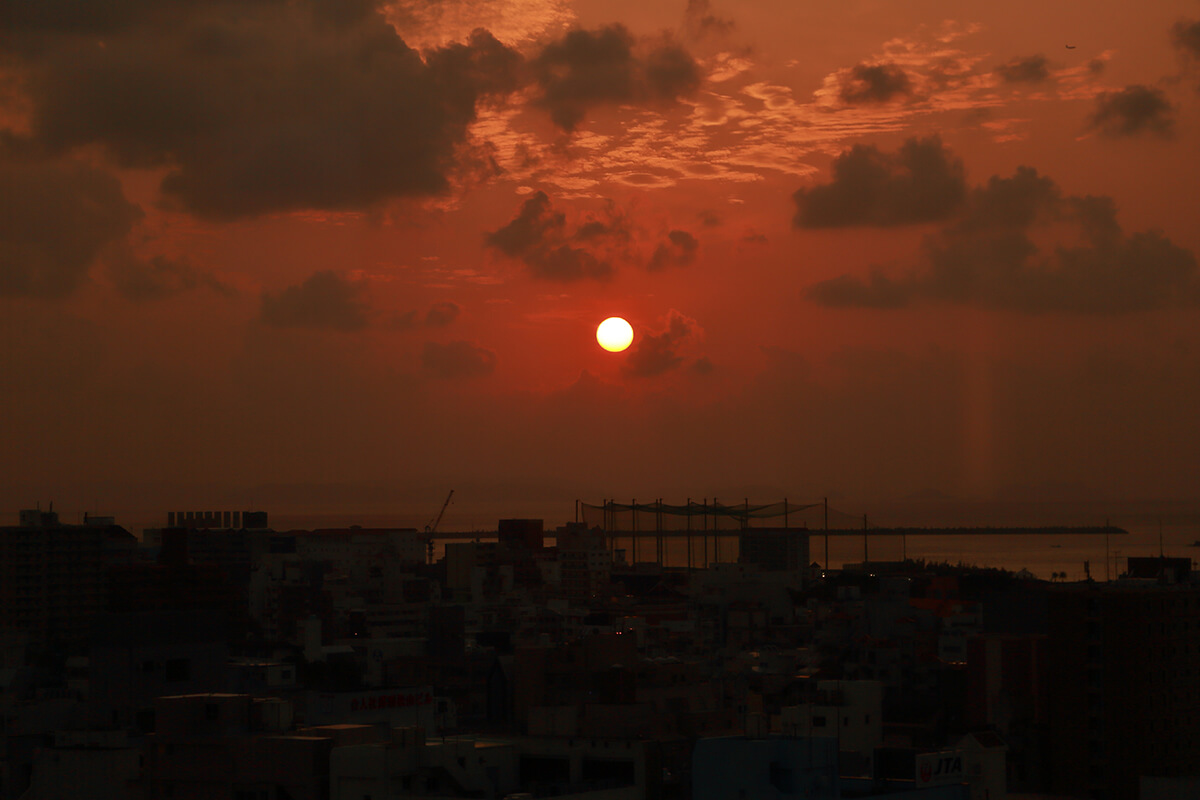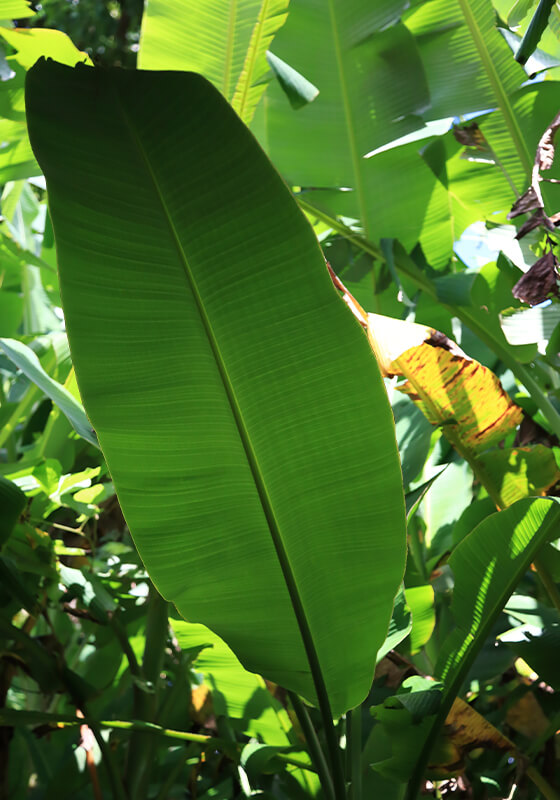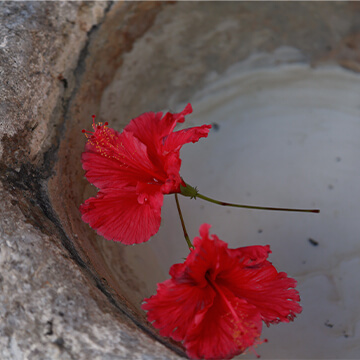 04
Design & Collaboration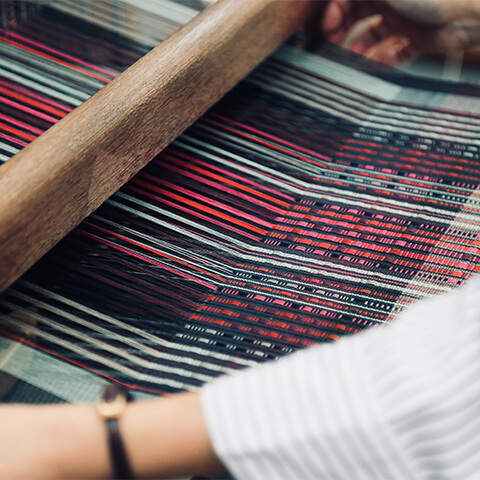 "RYUKYU NATURE MODERN"
Traditional Okinawan crafts such as Ryukyu glass and Ryukyu lacquerware, cushions and bed throws made of Okinawan textiles (Shuri-ori), artwork using Bingata dye, as well as lampshades made of Yachimun pottery, (all of which have been handed down for generations), are exhibited throughout the hotel. The furnishings are designed to show Okinawan culture, and they were made from contemporary craft artists while respecting the history, culture, and nature of "old" Okinawa.


Facilities
A 14-meter-long outdoor pool and a children's pool are located in a lush green courtyard inspired by the Ryukyu forest.
Opening hours: 8:00-22:00
(Seasonal opening Apr - end of Oct.)
Open to in-house guests only.
(Please be quiet after 20:00.)
Fee: Free of charge
Reservation: Not required
Facilities: 14-meter-long outdoor pool, children's pool
Other: Lockers (*Please wear a shirt to cover up your swimsuit in public areas).
Towels are available for rent at the front desk.

Caution
A fitness center is on the second floor of the hotel and it is open 24 hours a day for in-house guests only. Exercise in the resort atmosphere, and you will forget the hustle and bustle of everyday life.
The fitness center is equipped with simple equipment such as treadmills and weights. Please bring your room key and shoes to use the facility.
* Note that rental workout clothes or shoes are not available. Please bring your own.
This is for in-house guests only.

CAFE STRATA
A local French restaurant where you can enjoy breakfast, lunch and dinner.
Cafe Strata is an all-day café-dining restaurant themed as a local French restaurant. It has a very spacious dining area where you can eat and enjoy the view of the courtyard rich in nature. We offer casual meals throughout the day, such as galette with Okinawan ingredients. We use buckwheat flour, so please let us know if you have any allergies.

Breakfast: 7:00 - 10:30 (L.O. 10:00)
Lunch & Cafe: 11:30 - 15:00 (Food L.O. 14:00 / Drink L.O.14:30)

RESERVATION

MOSS okinawa
modern japanese restaurant
Our philosophy is "Wakonkan-Yosai" means 'Japanese-Spirit' versus 'Western-Cuisin'.The great dishes come from the great ingredients. It makes a big difference what we choose. We, Team MOSS visit and talk with producers all over Japan as much as we can, learn about their cultures, enjoy authentic foods there, adore them, images, and give form to our creations. Upholding "Ryukyu Inspired" in the land of OKINAWA, Welcome to our "Wakonkan-Yosai" world.

MOSS okinawa will be temporarily closed from November 4, 2023 to the end of January 2024. The reopening date will be announced on this page.
Lunch (Saturdays, Sundays and public holidays only) 11:30 - 14:30
Dinner 17:00 - 22:30 (last entry 20:00)
Closed: Every Monday + 2 days a month for irregular holidays
Seating: 12 seats at the counter

RESERVATION

Sky Salon
Sky Salon, a rooftop bar for grown-ups who like to enjoy themselves and the local community.
One of the few rooftop bars in Naha. Our lounge is located on the top floor of the hotel. There is wood throughout the interior of the bar, and the open-air terrace overlooks the city of Naha. Our Sky Salon offers a relaxing atmosphere with a Water feature and a fireplace that definitely heightens the sense of excitement in the resort. This is a great place for adults to enjoy some drinks and the beautiful night view of Naha.

BAR: Thursday,Fridays,Saturdays 17:00 - 23:00 (L.O. 22:30)





HOTEL STRATA NAHA
1-19-8 Makishi, Naha city, Okinawa
tel: 098-860-7400
By Public transportation
Approximately 30-second walk from Miebashi Station on the Okinawa Urban Monorail (Yui Rail).
Approximately 15-minute drive by taxi from Naha Airport (estimated fare: JPY1,810)

Access in the area
Approximately 5-minute walk to the nearest convenience store
Approximately 8-minute walk to Kokusai Street
Approximately 8-minute drive to Tomari Wharf Passenger Terminal
HOTEL STRATA NAHA
1-19-8 Makishi, Naha city, Okinawa
tel: 098-860-7400
By Public transportation
Approximately 30-second walk from Miebashi Station on the Okinawa Urban Monorail (Yui Rail).
Approximately 15-minute drive by taxi from Naha Airport (estimated fare: JPY1,810)
 
Access in the area
Approximately 5-minute walk to the nearest convenience store
Approximately 8-minute walk to Kokusai Street
Approximately 8-minute drive to Tomari Wharf Passenger Terminal


Regarding the press : sales-and-marketing@okinawa-uds.co.jp
Accommodation : info@strata-naha.com
Regarding application : okinawa-uds-saiyo@okinawa-uds.co.jp